Armistice Day – We Will Remember Them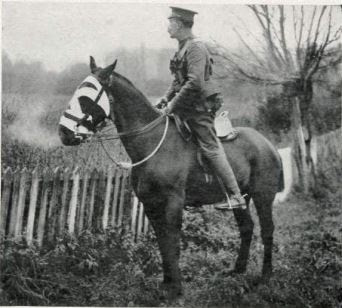 Today, RSPCA staff remember all of those who were killed or injured during WW1, including millions of service animals.
Many of the charity's inspectors had been soldiers prior to joining the RSPCA, and when the war was declared they were recalled to their old regiments, like many other reservists in Britain. By 1915 more than half of inspectors and staff were serving with the armed forces.
War was declared on 28 July 1914 and animals were sent to serve alongside British troops in France and Belgium – horses, mules, donkeys, dogs and even pigeons. At the height of the war, 1,000 horses a week were being sent to fight. It is estimated that 484,143 British horses, mules, camels and bullocks died between 1914 and 1918, as well as hundreds of dogs, carrier pigeons and other animals who died on various fronts. Many of our inspectors lost their lives in their attempts to save the animals forced to participate in the war. 
Within weeks of the war starting we set up the RSPCA Fund for Sick and Wounded Horses. It raised over £250,000 (that would be more than £12 million today) between 1914 and 1918. Even King George V himself made a donation!
The fund paid for four fully equipped field hospitals with state-of-the-art operating theatres. Each could hold up to 2,000 horses. It also bought 28 motorised and 180 horse-drawn ambulances to carry injured horses back from the fighting to the vet hospitals.
It is estimated that 484,143 British horses, mules, camels and bullocks died between 1914 and 1918, as well as hundreds of dogs, carrier pigeons and other animals who died on various fronts.
The hospitals treated 2.5 million animals during WWI. Eighty percent of them were taken back to the front lines again.
The Fund also provided:
Three motorised lorries to carry food and medicine
50 corn crushing machines to help prepare the horses' food
Tens of thousands of waterproof cloths, bandages, rugs and sheepskins
50,000 books on lameness and animal first aid
Tonnes of medicines and veterinary equipment
Hay and food for all the horses
AND… 4,000 skips and 100 iron trucks to deal with all the horses' poo.
More than eight million horses died in WWI, many on the front lines. Sadly, 18 RSPCA inspectors were killed during the conflict. During WWI, the RSPCA worked tirelessly to help sick and wounded horses on the frontline and protect and support all those animals under fire. 
Dermot Murphy, head of the RSPCA's rescue teams, said: "It is so important to commemorate the bravery and sacrifice of our RSPCA staff and remember all the animals who lost their lives through conflict.
"Animals have given so much to us, not just in the theatre of war, and we owe it to them to continue our work to improve their lives now and into the future."
In 2004, a memorial to all the animals who served and died in WWI, and other wars since, was unveiled in Hyde Park, London.
Thousands of sheepskins, cloths, bandages, medicines, brushes, hoof picks, books and tonnes of horse feed were bought by the RSPCA for the animals in the field hospitals The RSPCA trained men entering the Army Veterinary Corps (AVC) to look after horses.
As horses were being subjected to new types of warfare, including gas attacks. The fund began paying for specialist veterinary laboratory equipment and isolation units, which were vital in treating animals suffering the effects of gas attacks and burns.
We didn't confine our support to British forces. The fund provided eleven motorised ambulances to the American army, as well as provided assistance to the Canadian army.
By the end of the war the Fund for Sick and Wounded Horses had become truly international, supporting activities in France, Italy, Mesopotamia, Salonika and Egypt.
To help the RSPCA continue rescuing, rehabilitating and rehoming animals in desperate need of care please visit our website or call our donation line on 0300 123 8181.