Benevolent Vet Gives Owners Final Moments With Beloved Pets Amid Covid Restrictions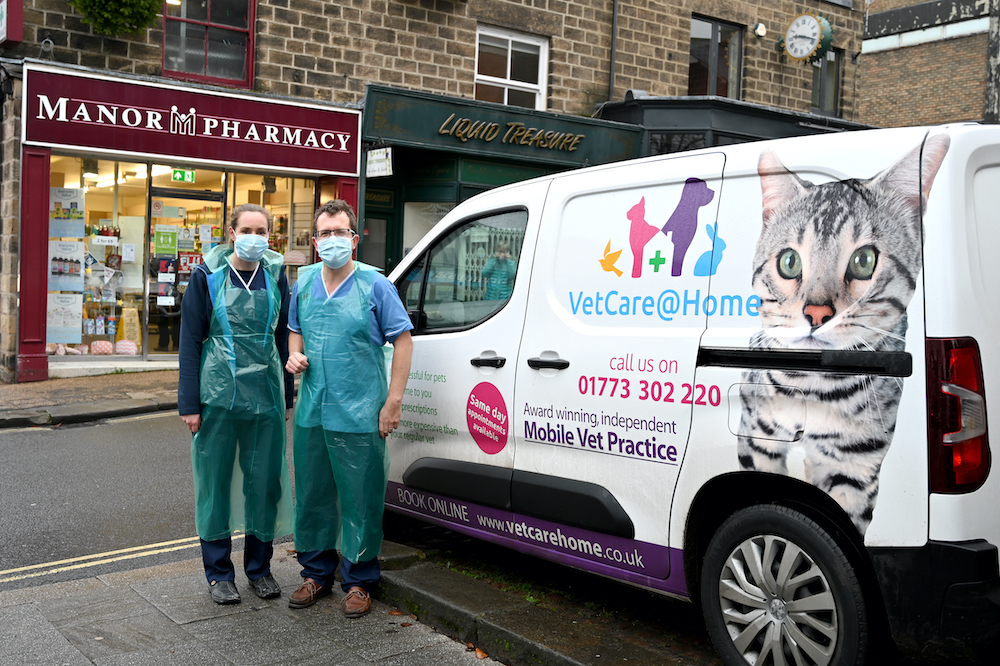 A travelling vet service has made it possible for people to bid a final farewell to their poorly pets – despite Coronavirus restrictions.
The unique mobile service offered by Dr Jon Rosie and his team at Derbyshire-based VetCare@Home – which provides veterinary care in people's homes – means animal lovers can spend precious last moments with their pets before they are euthanised.
At the start of the pandemic, guidance largely said people having their animals put to sleep had to leave their pets at vet practices and wait in the car or waiting room, to help minimise the risk of spreading the virus, and couldn't stay with them in their final hours.
But by the very nature of the business, VetCare@Home, using PPE and other safety measures, has been able to allow owners to continue to stay with their pets and say their goodbyes.
Dr Rosie, who is based in Belper but whose nine-strong team covers the whole of Derbyshire, including the High Peak area, said: "Some practices have adapted their processes accordingly, but being mobile has always allowed us to provide care in the comfort of the pet's familiar surroundings.

"We have adapted our approach slightly, adding social distancing and PPE to ensure safety for ourselves and the owners, while still allowing owners to spend those last precious moments comforting their beloved pet."
Melinda Roberts, of West Hallam, near Ilkeston, turned to VetCare@Home after finding the alternative was to have her 13-year-old pet cat, Sam, who suffered from lymphoma, taken to another vet, have him sedated and then attached to a drip line to be euthanised in her car.
Melinda, who had Sam from birth, said: "Sam doesn't travel well and for him to be put to sleep in a cold car wasn't for us. To find John and for him to do this in the comfort of Sam's home, at a time when I was already devastated, was a massive relief.
"I couldn't imagine not being able to go through our final journey together. I was extremely fortunate, so I can only imagine the mental anguish and torment, as well as heartbreak, that other owners go through not being able to, or allowed to, be with their pet at the most difficult time."
Dr Rosie, who extended his opening hours to meet demand during Covid-19, said at the start of the pandemic, some non-essential animal treatment was put on hold, but end-of-life care would be classed as essential.
He added: "Our motto is 'pets as family', and we will always adapt to the owner's wishes. For instance, we had one owner who didn't want us to wear our vet clothes – they wanted us to wear our own clothes, so the pet was comfortable.
"We try to make things as comfortable as they can be and it's a team effort. Often people talk about 'pets for life', but they don't think about end of life, and it's something that needs talking about a lot more."
With VetCare@Home, the euthanasia visit usually involves giving the pet a strong seditive. The owner can then be left alone with their pet, or the vet can stay in attendance while they become relaxed and sleepy.
Then the final drug, an anaesthetic, is administered via cannula and the pet drifts off peacefully.
To find out more, visit www.vetcarehome.co.uk