Bulldog Faces 'Life of Health Problems' Due to Breeding
Tuna has to sleep with her head propped up on a pillow so she can breathe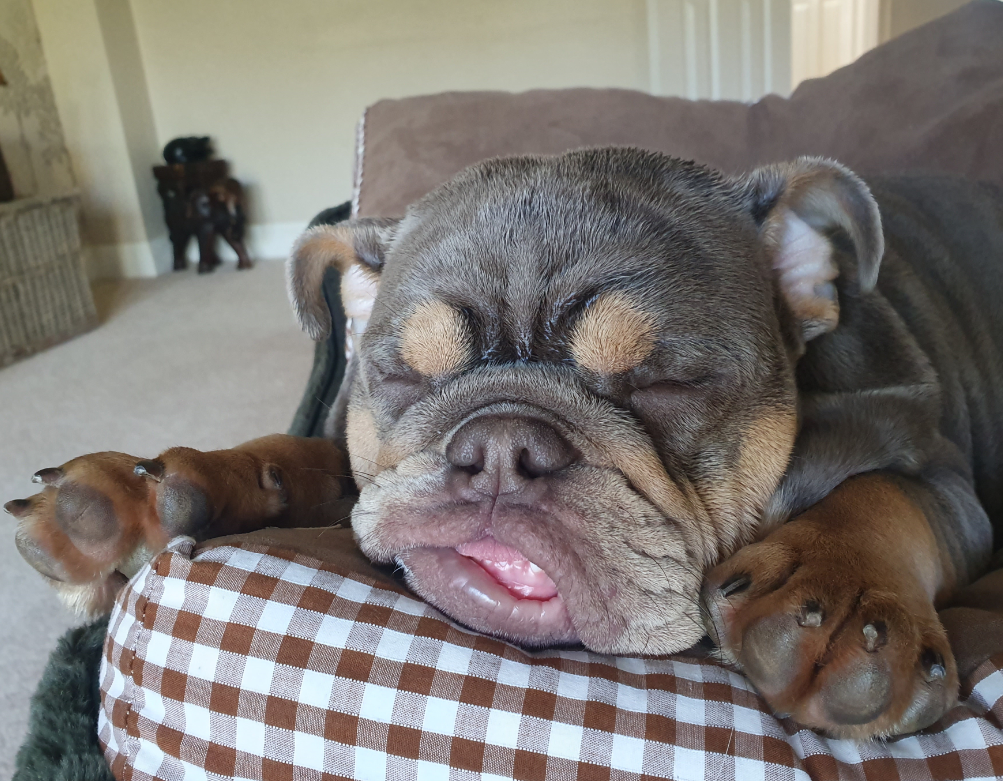 A young bulldog must sleep with her head propped up on a pillow so she can breathe while snoozing.
Bulldog Tuna was rescued by the RSPCA in September (2021) as part of an animal welfare investigation and was taken in by vet nurse Katherine Maling, who works at Blackberry Farm Animal Centre in Buckinghamshire.
Unfortunately the seven-month-old struggles to breathe due to her flat face.
Katherine said: "We'll do whatever we can to make Tuna as comfortable as possible and to ensure she has the very best quality of life but the reality is that she'll sadly likely face a life of health problems due to the extreme way she's been bred.
"Tuna isn't like the other youngsters she meets; they have endless energy while she gets tired easily, they're fit and healthy, while she's spent much of her early life seeing vets and having x-rays already. It breaks my heart that her life will always be impacted simply because people wanted to create a dog who looked a certain way."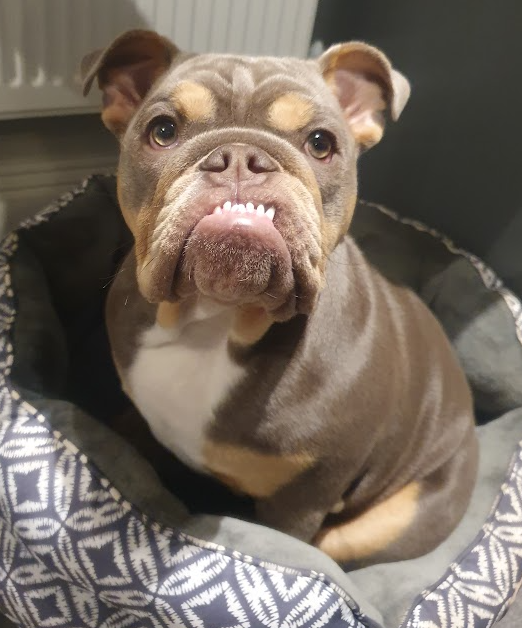 Tuna is one of a growing number of brachycephalic (flat-faced) dogs coming into the RSPCA's care with major health problems and complications caused due to the way they've been bred to have short muzzles, squishy faces, over-the-top skin rolls, and tight corkscrew tails.
She's likely to need treatment that can be expensive and often isn't covered by insurers.
"Tuna will sadly likely face a life of health problems due to the extreme way she's been bred."
The RSPCA has launched a new campaign Save Our Breath urging the public not to buy breeds who cannot live normal lives due to the irresponsible way they've been selectively bred. It comes as the number of British bulldog puppies being registered with the Kennel Club increased 149%, between 2011 and 2020, while the number of French bulldogs registered soared by 1,317%.
With the surge in demand for pets during lockdown there are fears that more brachycephalic dogs, cats and rabbits will have been bred by breeders resulting in even more sickly animals who require expensive veterinary treatment to help them carry out the simplest of everyday tasks such as walking and playing.
And the RSPCA fears that more of these animals could be abandoned or relinquished to charity as their owners struggle to cope with costly veterinary bills as the cost of living soars.
Katherine added: "Tuna is likely to need surgery in the future to widen her nostrils and remove excess tissue from inside her airways to help her to breathe better. While the surgery can significantly improve these dogs' quality of life it isn't a guarantee and she's got a fight on her paws.
"She'll need specialist care and close monitoring for her whole life so I've decided that, as a vet nurse who can give her that, she'll be staying with me permanently."
Tuna will be assessed by vet experts who will come up with a plan that will assist her once she's older. She is due to be spayed and, as anaesthetic can be such a risk for brachycephalic dogs, Katherine hopes she can have any surgery she needs at the same time.
"Tuna currently only displays breathing issues when she's sleeping; she snores extremely loudly and while many flat-faced dog owners think this is adorable, it's actually their body straining for air," Katharine added. "She also struggles with sleep apnea and struggles to get comfy on flat beds so has to sleep with her head propped up on something so it's higher than her body.
"When we're walking she'll pant more than other dogs and I'm particularly concerned about her as the weather hots up; it's likely she'll have to stay in on any warm days as heat stroke is an increased risk in flat-faced breeds."
RSPCA chief vet Caroline Allen said: "Our desire for cuteness and the selection for shorter, flatter faces – known as brachycephaly – has resulted in dogs who struggle to breathe.
"Their excessive soft tissue causes obstruction in their airways and their abnormally narrowed nostrils and windpipes leave them gasping for air. Struggling to breathe, or even sleep is very distressing and affected dogs are struggling with this every day, with serious impacts on their welfare. They also face eye problems, skin concerns due to excessive wrinkles, and painful back conditions due to corkscrew tails.
"We understand why there is so much love out there for these breeds. But it's wrong that we're knowingly breeding for features which compromise their basic health and welfare."
The public has an important role to play in helping to improve the future health of these breeds. We need to stop seeing these pets as cute and recognise the serious health issues they face.
The Save Our Breath campaign seeks to educate the public about the impact of this type of breeding on dog welfare. The RSPCA would like people to consider getting an alternative breed or consider a crossbreed that has a lower risk of problems.
For those wishing to get involved in the Save Our Breath, there will be two surveys available to members of the public. One survey will collect crucial information on brachycephalic animals in advertising, while the other will allow the public to share their own experiences with these animals. This vital research will help inform the RSPCA's experts as it works to protect future generations of these animals. Supporters can also sign up to the Give Animals a Voice campaign network for the latest information and access to campaign materials.
To help the RSPCA continue rescuing, rehabilitating and rehoming animals, like Tuna, please visit our website or call our donation line on 0300 123 8181.